Member Profile
Stories
FORTITUDE: Christian Henry | Go with the flow (and drink an awesome cup of tea)
How Filmmaker, Writer, and Producer Christian Henry carves out her path in today's world.
I wouldn't know how to deal with the pressure. I mean, show up at 7:00am and not only produce but also write KGW's News at Noon by the time the clock strikes twelve, five days a week?
That's OMPA member Christian Henry's day job — even now during COVID.
But then, I don't think Christian actually feels pressure the same way I do. I mean, I need to procrastinate. Like writing this story: I had to lay on the couch for an hour, do the dishes, lay on the couch again, text a half dozen people, remind myself I needed to eat … and guess what: COVID time has only amplified my lazy-ass tendencies.
But on Christian's job, there's no time for that. Sure, these days, she has to show up to work at home, instead of the newsroom. But still, she shows up. Eight hours a day. Monday through Friday.
Christian and I met for the first time on Zoom. It's important to note that it was a Sunday afternoon in August. Hot. Humid. Lazy. She was on her porch drinking hot green tea from a gigantic — and I do mean gigantic — ceramic cup, emblazoned with the words, "Wake up and be awesome."
As we got started, she yawned a few times and I found myself succumbing to one of my worst fears, "Damn. David, you're so boring." Truth be told, that wasn't the problem. As her green tea began to take effect, I quickly realized I was Zoom-chatting with an incredible powerhouse who deserves to have her weekends off. My bad! Why would anyone who produces a news show five days a week and has a burgeoning filmmaking career on the side want to submit herself to an interview for an important but admittedly minor publication on a lazy Sunday afternoon? If it were me, I'd rather be on the couch.
Oh, wait. Did I forget to mention that outside of her day job, Christian Henry is an award-winning filmmaker with such luminary credits as We Have Our Ways? If you haven't seen it, you should. Produced by Christian, written by Kjerstin Johnson and directed by Dawn Jones Redstone (also an OMPA member, serves on OMPA Diversity Committee), the film was an official selection of the 2018 Portland International Film Festival, where it was voted Best Oregon Short Film. It was also named one of Willamette Week's 'Favorite Portland Movies.'

Our Ways is a story about a dystopic America where "street riots are common, tap water is undrinkable, and you're lucky if you get health insurance." I think it's safe to say that the 2018 film foreshadowed 2020. And so does another one of Christian's "moonlighting" projects:
Gabby Antonio Smashes the Imperialist, White Supremacist, Capitalist Patriarchy — a comedy web series about "the trials and tribulations of a young woman of color who struggles to do good in the whitest city in America — Portland, Oregon."
The Gabby Smashes! pilot was directed and produced by Christian's Our Ways collaborator, Dawn Jones Redstone. So when Dawn had to move on to other projects, she encouraged Gabby creator and lead actor Luann Algoso to recruit Christian as Producer. But Christian had other intentions—she convinced Luann to give her a shot at directing the series!
You see, Christian has a double major in film and journalism from Pacific University. "I was into the whole storytelling thing," she told me. "But the journalism job came first." Now she had a chance to really tell a story that was close to her heart.
Luann Algoso is a Portland-based writer and cultural worker who, like Christian, has a day job. The two of them hit it off. Collaborating with several cast members, they spent a year writing the first season. They brought on Portland's Eva Moss as Producer (FYI, Eva serves on OMPA's Diversity Committee and also has a day job). Principal photography was completed last summer, and the first episode premiered at the Portland Film Festival in the fall. But then came COVID and the project stalled. Now that we've all settled into the semblance of a routine (if you can call it that), Christian has finally been able to get back to overseeing post-production — in her spare time.
You've probably got my drift by now: 'day jobs,' 'spare time,' 'moonlighting,' 'on the side.' I envy and admire the energy, commitment and tenacity of these filmmakers! They are creating their art and telling important stories — despite the barriers they face as women and people of color.
And that's the thing.
In "the whitest city in America," our film community has not been known for its diversity and inclusion. I know, because I've been a white filmmaker in Portland for longer than I can remember. I've worked with countless mostly white crews and casts. I've edited in countless mostly white post houses. I've produced projects for countless mostly white clients. And only now are we finally starting to see the doors open for creatives of color. It's time for us to make way. Way past time.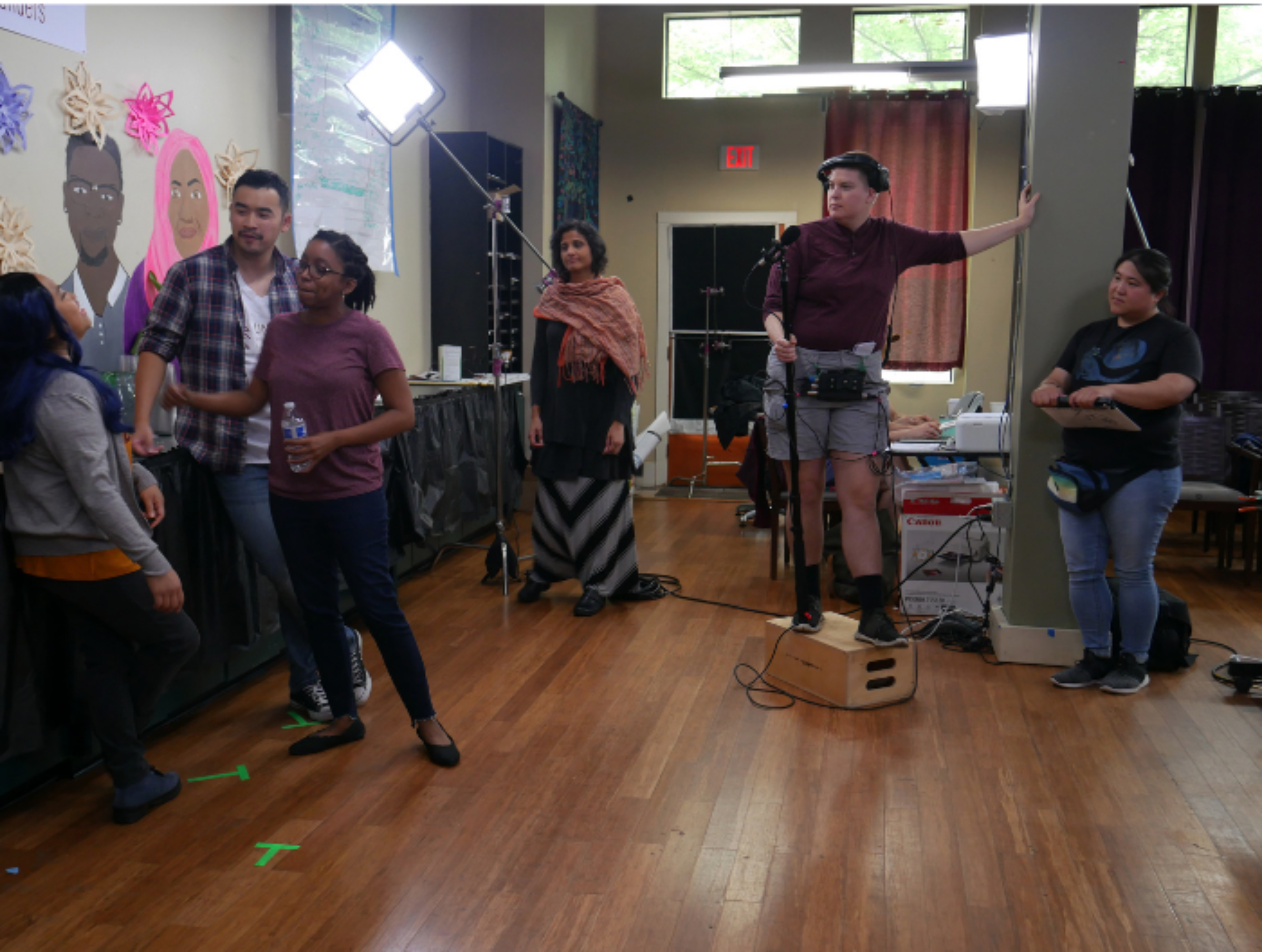 Yes, good work is being done to open those doors throughout the film community, from OMPA to Oregon Film, NWFC, Portland Prosper, NW Doc, Open Signal, individual producers and crews, and beyond. But I'm more than damn sure the doors are not opening fast enough or wide enough. So I asked Christian what she thought. She told me the barriers exist.
"I still come up against it," she said. "But my work allows me to connect with people who are trying to make something in spite of the obstacles. It's Luann writing her story. It's Dawn making her films. It's people who are inspiring — carving out their own path because the traditional path is not as accessible."
Before COVID, Christian was producing on KGW's lifestyle program, "Tonight with Cassidy" — but it was cancelled due to social distancing needs. Other than that detour, COVID hasn't caused many big challenges in her new day job. "It's the same work. I'm just doing it from home," she said. "When Governor Brown holds a press conference at 11:00am, I still have to get the story out by noon."
"And the pressure of it, how do you do that?" I ask.

"I just go with the flow of it," she says. "Once the show's over, it's over. I try not to be too hard on myself." Christian takes a sip of green tea from that gigantic cup of hers and gives me a big smile.
The cup is a prop from Gabby Smashes!, one of many affirmation mugs that are at the heart of Luann's character Gabby, who strives — like Christian and so many in our community — to carve out her own path despite the barriers.
"Wake up and be awesome."
Watch for Gabby Antonio Smashes the Imperialist, White Supremacist, Capitalist Patriarchy to be released in 2021.
---
FORTITUDE is OMPA's column about the trials, tribulations, successes and victories of our members during these strange times — stories of true grit, creativity and resilience, written by David Poulshock and contributing guest writers.
The Loveridge Family | Picture This Production Services
Annie Tonsiengsom | Actual Industries EP & Founder, OMPA DEI Committee Co-Chair
Kenji Sugahara | A-Cam Aerials Drone Pilot, Attorney
Rebecca Hynes | Indie Producer
Jared Hobbs | Deep Sky Executive Director
Christian Henry | Indie Filmmaker, Writer/Producer at KGW
Devin Fei-Fan Tau | Indie Director & Producer
Eric Stolberg | Founder & Sound Mixer at Digital One
Sarah Whelden | We all have our own little superpowers.
Jason Chau | Talk the walk. Walk the talk. And do it on a tightrope.
Want to become a contributing writer? Sign up on our volunteer form or email info@ompa.org.
About the Author
David Poulshock is a writer/director based in the Northwest whose preferred genre is magical realism.
Learn More