Member Profile
Stories
FORTITUDE: Rebecca Hynes | Go get. Go far.
How Bend-based Producer Rebecca Hynes sees the future.
Now that the election is over (mostly, hopefully), here's a breath of fresh air: Rebecca Hynes. The moment you meet Rebecca, you know she's the kind of producer who's all in — with a big dose of cup-half-full.
Rebecca is an agency-line-post producer based in Bend — which is a good place to live for someone who likes outdoor adventure as much as she does. She has a broad range of video and print experience for clients like Eddie Bauer, Mastercraft Boats and Nike — who often like to tell their stories in the wild. Not that Rebecca hasn't produced her share of urban projects either: how about that 20,000-square-foot new media museum at One Market Street in San Francisco that she produced?
Rebecca and I spoke via Zoom (the new normal) before the election, and her energy reminded me of one of my favorite movie lines from David Mamet's Heist, in which a different Rebecca (Rebecca Pidgeon) says, "I'm the go-getter, tell me what to get and I'll go."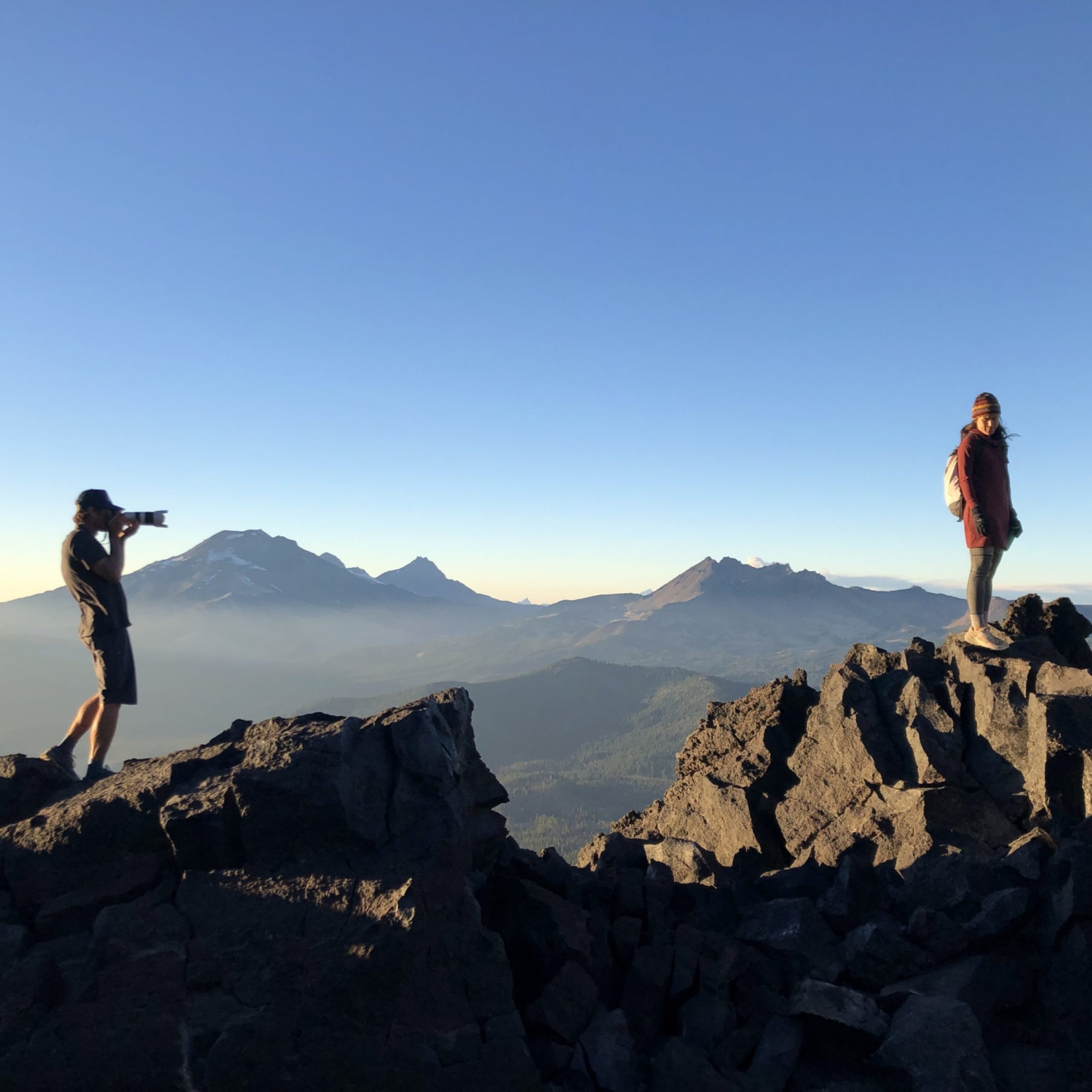 Our own Rebecca has done a lot of going-and-getting in her career. In 2019 alone, her work took her on 45 different flights to places like Cape Town, Colorado, Vermont, Boston and beyond. She's only been on one flight this year because of COVID and the downturn — but that hasn't stopped her. For Rebecca, 2020 has seen a lot less going, but just as much go-getting.
"At the beginning of the year I was booked all the way through October and then it all went away," she told me. "As a freelance producer it was tough, that first month of cancelling. It was interesting terrain to be in, but people showed a lot of compassion, and I'm blessed to be busy again."
RIVER LOOTERS ON THE FESTIVAL CIRCUIT
During the lockdown, Rebecca turned her attention to promoting her documentary film, River Looters. And let me tell you, the film covers some pretty "interesting terrain." If you've spent any time in Bend, you know that the Deschutes River runs right through it and that those outdoorsy Bendonians created the Bend Whitewater Park in the center of town. Every year, thousands of people kayak, paddleboard and tube the rapids — losing thousands of their things along the way: cellphones, diamond rings, cameras, you name it.
River Looters documents a trio of river surfers who call themselves @lootthedeschutes. They dive the rapids, grab the loot, and try to return it to their rightful owners! Last summer, they pulled about 30-40 iPhone 10s, dozens of car keys and 2,000 pairs of sunglasses from the depths of the Deschutes.
Rebecca shot all the primary cinematography and edited the film, finishing post in January of 2020. Then she used the downtime to get busy submitting to festivals. To date, River Looters has been accepted into eight festivals, including Rebecca's dream venue, Mountainfilm 2020 in Telluride. Check out the film's web page here, and its Mountainfilm listing here.
"Mountainfilm is the titan of the adventure doc world," Rebecca told me. "That's my world, my dream, to make those kinds of films, and it's a thrill to be part of the festival."
Rebecca would have loved to go to Telluride, but of course the festival was virtual this year. Still, she got to do the next best thing: produce an Instagram live feed during the festival, streaming with her cast of "River Surfers" in their wetsuits from the banks of the Deschutes. I guess, Instagram is one way we get to "go far" these days.
INDIE WOMEN IN ADVENTURE FILM
Rebecca says that in the adventure doc world, small Indie films like hers have to compete with docs that are often funded by major outdoor brands. What's more, those big budget films are directed by an elite group of directors, a vast majority of whom are men "The same production companies seem to get most of the branded docummercials. It's hard for independent outdoor films to compete against them in festival selections." she said. "My film is quite lo-fi, in a style I'm now very proud of. I never faked a scene nor had my cast do something twice just for the shot."
I've been in this business for 16 years and 2019 was the first year I produced a job for a woman director. —Rebecca Hynes, Bend-based Producer
When it comes to the issue of gender equity in the film biz, Rebecca pulls no punches, and I don't blame her: "It's particularly hard for women to be awarded Directorial gigs, which is something I am still working towards in the branded doc arena," she said. "I've been in this business for 16 years and 2019 was the first year I produced a job for a woman director."
That project — The Little Mountain that Could — was one of those rare branded docs directed by a woman, Canadian filmmaker Andrea Wing, and produced by the Origin Outside agency for LL Bean. Check out this touching film about a small ski-resort's mission to keep family skiing alive here

Another female director that Rebecca was able to work with recently was Ree Treweek, founder of Tulips and Chimneys, a production company based in Cape Town (remember all those flights in 2019?). The spots that Rebecca produced for them were for Zespri Yellow Kiwi, and are a stunning mix of visionary animation and live action. Check them out here.
Both Andrea Wing and Ree Treweek are listed on Free The Work (formerly Free the Bid), an organization that strives to get agencies and brands to secure at least one woman director's bid on every job.
GETTING OUT THERE
A big theme for Rebecca during COVID has been to use her downtime to do pro bono videos. She did four short films for various causes over the spring and summer. "All of them on my own," she said. "Directing, shooting, editing – it was a great way to both develop my skills and also do something purposeful with my time." Her most recent pro bono project was a mini doc about ADA improvements in the Deschutes National Forest, enabling people in wheelchairs to experience the trails for the first time. You can see the film, here.
Speaking of advocacy, Rebecca has been an OMPA member for many years, and says, "The work that OMPA does, advocating for Oregon filmmakers, benefits all of us." (Coincidentally, she's been listed in SourceOregon—OMPA's vetted production directory—for over 10 years!)
I asked her if she has any advice for OMPA's women in film, and she said: "Ask for what you need. You have to learn to feel worthy of getting help and asking for a chance. If you wait for someone to look out for you, it's not coming. You have to go get it yourself."
Go get it, Rebecca! And go far.
---
FORTITUDE is OMPA's column about the trials, tribulations, successes and victories of our members during these strange times — stories of true grit, creativity and resilience, written by David Poulshock and contributing guest writers.
The Loveridge Family | Picture This Production Services
Annie Tonsiengsom | Actual Industries EP & Founder, OMPA DEI Committee Co-Chair
Kenji Sugahara | A-Cam Aerials Drone Pilot, Attorney
Rebecca Hynes | Indie Producer
Jared Hobbs | Deep Sky Executive Director
Christian Henry | Indie Filmmaker, Writer/Producer at KGW
Devin Fei-Fan Tau | Indie Director & Producer
Eric Stolberg | Founder & Sound Mixer at Digital One
Sarah Whelden | We all have our own little superpowers.
Jason Chau | Talk the walk. Walk the talk. And do it on a tightrope.
Want to become a contributing writer? Sign up on our volunteer form or email info@ompa.org.
About the Author
David Poulshock is a writer/director based in the Northwest whose preferred genre is magical realism.
Learn More