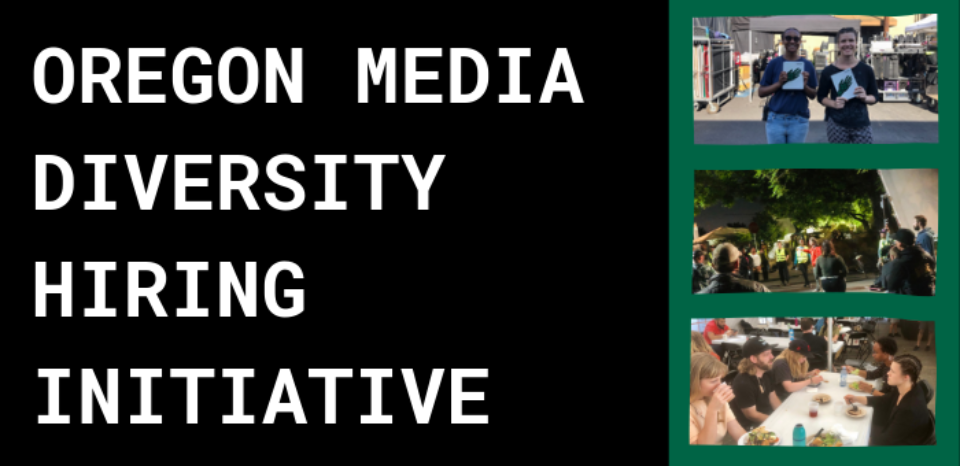 Industry News
Stories
Oregon Media Diversity Hiring Initiative places two interns on "Shrill"
We're excited to share that the two paid interns we helped place on SHRILL season 2 as Production Assistants have successfully wrapped their first full-time production gig.
We're excited to share that the two paid interns we helped place on SHRILL season 2 as Production Assistants—Janelle Parrish and Makayla Caldwell—have successfully wrapped their first full-time production gig. The two up-and-coming professionals earned this opportunity through the Oregon Media Diversity Hiring Initiative.
The Oregon Media Diversity Hiring Initiative, a program developed in partnership with IATSE Local 488 Studio Mechanics of the Pacific Northwest, Oregon Film, the Portland Film Office, and Worksystems Inc., aims to create a pipeline of engagement, training, and employment through mentorship and on-set training to increase the diversity of the entertainment industry.
The 2018 pilot of this program placed two professionals, Das Leune and Sika Stanton, in paid roles on the set of Documentary Now! They were also paired with mentors, David Cress and Michael Koerner, to help support them in securing ongoing work in the industry after the first placement ended. Both have since earned jobs on Shrill, and Sika is now in the IATSE Local 600 International Cinematographers Guild.
2019 Mentees: Janelle & Makayla
Janelle (left) and Makayla (right) on their first day on the job on Shrill Season 2. Photo Credit: Jay Farro
Janelle is a graduate of Georgetown University with a background in sound, set, and props. Makayla, a PCC alumna, came to the program from Outside the Frame, which helps youth experiencing homelessness learn filmmaking skills.
"To me, this is an inside look into what the industry is like in the flesh. A chance to swim in its open waters to decide whether you want to continue swimming or jump on a ship out of this oasis," Makayla says.
Follow Makayla on Instagram: @innodrame
2018 Mentees: Where are they now?
SIKA STANTON: "I just finished working on Shrill season 2. I joined the camera union this winter and to me it means being able to continue to work, learn, and network with [IATSE] Local 600 and Local 488 union members on large productions that come through town. I was able to "day play" on The Perfectionists, the Stumptown pilot, and The Birch as a Digital Utility before Shrill started up again this summer. I have also started ACing on non-union projects including two jobs at Nike and a handful of indie short films and music videos."
DAS LEUNE: "Since last summer I've worked on seasons 1 and 2 of Shrill, The Waterman movie directed by David Oyewolo, some commercial work, and music videos such as "I See You" by Missio. I produced and filmed a short film, BBHMM Blunt that was shown at screenings in over six cities through SPLIFF Film Fest, traveled to Colombia, and produced mini features on interesting artists and community figures on my website, www.streetcreatives.com. I'm currently about to start working on the movie, Jesus is my Homeboy, which will be directed by Shaka King. This connection has indirect OMPA ties since David Cress introduced me to Ime Etuk, who introduced me to Shaka. I'm excited about my upcoming adventures and all my opportunities to date!"
Outcomes
Throughout the production Makayla and Janelle had job site Advisors to help them acclimate to the industry. Mealtimes With Mentors was a lunch-time opportunity for IATSE crew members to answer the Interns' questions about the different Craft Departments that help make a production happen. Both Janelle and Makayla also have Long Term Mentors and will enjoy this mentorship for one year by members of IATSE Local 488 and other industry professionals. They have been provided with free OMPA Memberships to help them with networking opportunities.

Mealtime With Mentors: The Property Department edition
(L to R) Emily Yurek (Asst Property Master), Dave Koenig (Property Master), Allyson Riggs (Stills), & Interns Janelle Parrish, Makayla Caldwell discuss the joys and challenges of Props.
We recognize that a diverse workforce supports better project outcomes as well as a continuous pattern of diverse hiring. Through this program, we hope to help bridge the experience gap, develop professional networks, and provide employment opportunities that set participants on a path towards long-term career success.
---
If you are interested in being considered for future placements, please send your resume and cover letter to lisa@ompa.org.