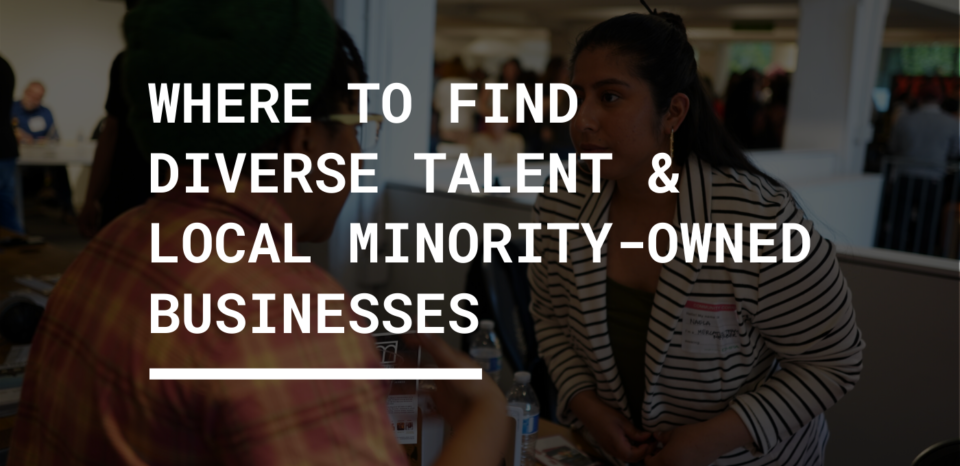 OMPA DEI
Stories
WHERE TO FIND DIVERSE TALENT & LOCAL MINORITY-OWNED BUSINESSES
We've gathered a list of 15+ sources to help you find diverse talent and minority-owned businesses to hire.
Given the opportunity to hire someone, most never look much beyond their circle or list of go-to professionals. We've heard countless times that people "don't know where to find" candidates of more diverse backgrounds. It's time for that to change.
We've gathered a list of 15+ sources to help you find diverse talent and minority-owned businesses to hire, in Portland and beyond.

A global, user-generated smartsheet of diverse crew, including their bios, interests, skills, languages and more.
A directory that celebrates and highlights Asian & Pacific Islander creatives.
A platform devoted to showcasing Black creativity and normalizing representation in the ad industry. Find Directors, Editors, and DPs/Cinematographers.
A Twitter directory of accomplished Black designers.
A list of female-identifying BIPOC production professionals from around the world.
Cast and Crew of Color is an online professional network developed by and for people of color to facilitate collaboration and empowerment.
This Portland-based nonprofit led by OMPA member Eva Moss produces and supports equitable and inclusive projects that hire at least 51% self-identifying women/non-binary folx, 35% BIPoC, and are LGBT inclusive. Their directory is searchable by identity.
A private Facebook group geared towards film/TV professionals looking for paid work in the Pacific Northwest.
Find BIPOC creatives available for paid hire, or offer pro bono creative services to BIPOC-owned businesses and organizations.
Find design and creative Filipinos from all over the world.
Find talent, save profiles to build lists, and post open calls. BIPOC professionals who list on the site can also take advantage of a private forum to share experiences.
A massive, worldwide list of Black creatives from a variety of media production disciplines.
An international list of female Black creatives from a variety of media production disciplines.
A continually growing list of +1,000 Black photographers around the world who are available for hire.
"IllustratorHub is an online database curating the DOPEST Black Illustrators around." They also have a free Slack channel for networking and sharing projects. One of the site's founders also created blackillustrations.com—a library of hundreds of pre-made black illustrations available for personal and commercial use.
A living directory of thriving Indians in the design industry.
Owned by OMPA member Fran Bittakis, JOOP JOOP represents a local roster of multidisciplinary Black, Indigenous, People of Color , Womxn, LGBTQIA2S+, non-binary creatives, and their accomplices.
A living directory of thriving Latinxs in the design industry.
Mercatus
A curated a list of over 400 of the best-in-class MWBEs (Multicultural and Women Owned, Operated and Controlled Business Enterprises).
A growing showcase of creatives of color and their craft in design, advertising, tech, illustration, lettering, art, and more.
Highlights the voices, experiences, and contributions of BIPOC creatives in Portland. Directory is searchable by pronouns.
A community where LGBTQ+ designers can celebrate queer contributions to the design industry and visual culture, share their work, and connect with each other.
A platform for cinematographers and film technicians of color to list their services. To work with sporas to hire a diverse crew or DP, contact hirecrew@sporas.com and include whether you're interested in a crew or DP in the subject line.
Published in 2019 by POW Film Fest, The Directors is a zine of Portland's women and non-binary filmmakers, including many OMPA members.
A Twitter directory of accomplished women in the design industry.
An open directory of female* professional illustrators, artists and cartoonists.
*Women Who Draw is trans-inclusive and includes women, trans and gender non-conforming illustrators.